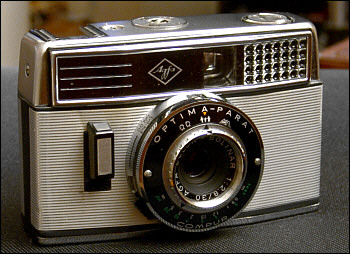 This is one of my favorite cameras. It has a few quirks, but overall I really have enjoyed using this camera.
The Optima-Parat is the premium Agfa half-frame, fitted with a sharp f/2.8 30mm Solinar lens and a Compur shutter.
It is mostly autoexposure, featuring a trap-needle meter powered by a selenium cell. The ASA range of the meter runs only up to 200. I've limited myself to Kodak Gold 200 and ASA/ISO 100 black and white film. There is a flash-synch speed of 1/30, and you can manually select the aperture – that would be your only ability to have manual exposure.
I think it's a handsome camera. The body is very smooth - almost too smooth. I find that it works best in a case. The all-metal can be difficult to hold because it's so smooth. Plus, in the winter months, it wouldn't surprise me if your fingers stuck to it. Well, maybe not, but I would imagine it to be very cold in your bare hands.
The body has no strap eyelets, so if you want to attach a neck strap, you really need the hard case. The top half detaches, leaving you with a nice half case.
The Solinar is a Tessar-type and very sharp. It is scale focus - make your best guess. But with it being a 30mm lens, even at f/2.8, you can miss on focus and still get your shot. The lens has a 25mm thread, and you can still buy filters, although you do have to hunt a bit for them.
I've shot a lot of color and black and white. I really enjoy using the Optima-Parat. Like most half-frames, the camera takes verticals/portraits by default. You have to turn the camera to take a landscape photo.
It's a great everyday camera, and it's very easy to use. The only thing that I would change is to use a top-mounted shutter release. I think that the front-mounted releases are more difficult to use, and the one on the Optima-Parat is slightly stiff. You have to take care when releasing the shutter that you don't move the camera at the same time.
» I have a review of the Agfa Optima-Parat on my site.
Some statues that occasionally caught me off-guard (I thought they were humans), despite me seeing them for something like eight years in a row.
Going through the car wash. Took the dog with me one day (not when I took this). When the water hit the windows, the dog freaked and leaped and clawed his way to the back seat. It was the last time that I took a dog through the car wash.
A building with an interesting reflection.
My niece with my big bro'. Shot on Kodak Gold, desaturated to b/w and then added some color back into the photo. I was trying something.
Comedian Jim Gaffigan does a funny bit about going to the Waffle House after a night of drinking: "It's 2 a.m. - still time to make one more bad decision."