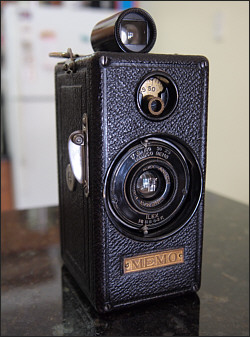 The Ansco Memo is one of the earliest half-frame 35mm cameras. I don't know if it's the first, but I would guess that it's mighty close to the top of the list.
Introduced in the mid-1920s, the body is all wood with brass fittings. There were a couple of lens and shutter combos. My camera has the least expensive lens and shutter – a non-focusing f/6.3 Cinemat set in a three-speed Ilex shutter that also has B and T.
The Ansco Memo uses special cassettes that you can preload with film. You advance the film by pushing down a plunger on the back of the camera, which pushes the film from one cassette into another.
You frame your shots with the small finder that is on top of the camera. With each press of the shutter, the circular frame counter increments by one. The frame counter is the dial that sits above the lens/shutter. You reset the frame counter by turning the small knob that protrudes from the center of the dial.
There is also a small wire handle for carrying, I suppose. I have the original instruction booklet. Oddly enough, I had the instruction booklet about six or seven years before I owned the camera.
My camera had both cassettes when I bought it. You also can use Agfa Rapid cassettes, which are much easier to find today than the original Ansco Memo cassettes. You need to feed an inch or so of film into the empty cassette when you load the camera.
It required a large amount of work to bring it back to usable condition. That wasn't really a huge surprise with an 85+-year-old camera.
I had a bit of difficulty setting infinity focus, because the lens rails are curved. You set infinity focus by loosening a screw on the side of the camera, and the entire lens carrier box slides to and fro. A bit crude, for sure, but it was designed in the 1920s.
How are the photos? Dreamy! The centers are decently sharp, but the edges – even at f/16 – are very soft. I need to shoot a bit more with this and maybe play around with the infinity focus setting again.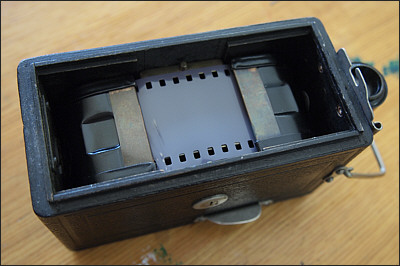 The Ansco Memo loaded with film. The film travels from top to bottom.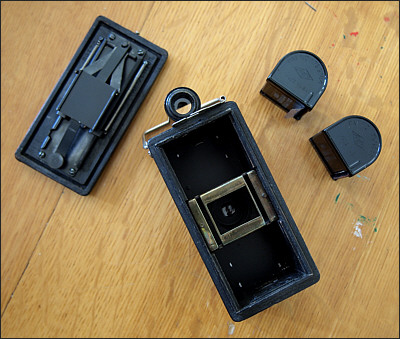 A few photos: